~*~*~*~*~*~*~*~*~*~*~*~*~*~

I thought we would have afew friends over this Easter as we normally spend it alone.
Liam wakes to find the Easter bunny has been and scatter eggs throughout the house.
Although he has told me he now KNOWS about the Easter bunny!
But I am the big kid of the house so I am still going to celebrate.
I think I am going with orange and lemon colours but here's some inspiration...
TABLESCAPE
I love the artifical grass ( we sell door mats made from this at work that I can cut up)
and have made some plaster of paris bunny's I can use.


DECORATIONS



About three weeks before Easter, plant rye grass in new clay pots and grow on the windowsill.
Once the grass begins to grow, trim with scissors to keep to a nice height until you are ready to use.
For decoraions, holding cake / cookie pops etc
GAMES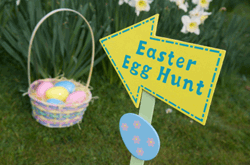 Of course there has to be an Easter Egg hunt or tail
the basket and sign available from the Pound Shop!!!
but I love the vintage look of this blackboard


Pin the tail on the Easter Bunny
photo source
Easter egg bingo
photo source
Bunny Hoopla
Print off a bunny picture
glue to stiff cardboard
prop up in basket
you can make sevral if you like
CUPCAKES

These Easter cupcakes are to cute to eat
Sorry if these are yours let me know and I will link up,
I have lost the link and can not find you again, Thank you.
FAVOURS // FAVORS
bhg